The last couple of winters were quite cold overhere. We also had much more snow than we're used to. This trend seems to be due to global warming. This year we already had our first serious snow in November, which is quite early.
Since cycling is my primary mode of transport, all that snow and ice was not fun. I fell off/crashed my Challenge Hurricane recumbent several times during those winters, especially on icy spots hidden under fresh snow. Luckily on this recumbent the seating position is quite low, so I didn't injure myself much except for some bruises, but I did get some damage to the bike. It is also not a very relaxing ride. The cyclepaths outside of city limits aren't always cleaned, so after a couple of days it consists of a sheet of ice with ruts from cycle tires. And there were several days when the roads were just too slippery to bike.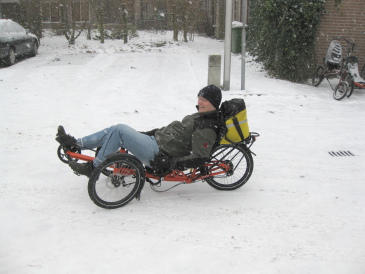 So I started thinking about recumbent trikes. At de liggende hollander I was able to test the HP Velotechnik Scorpion. That test drive was so much fun I was immediately sold on trikes! It's a bit like driving a go-kart. And of course it is very stable and not fazed by snow and ice. I decided to get a trike as my commuter bike. After comparing different models I settled on the scorpion.
To the right you can see me taking it out for the first ride. Very appropriately it was snowing at the time. :-)
---
For comments, please send me an e-mail.